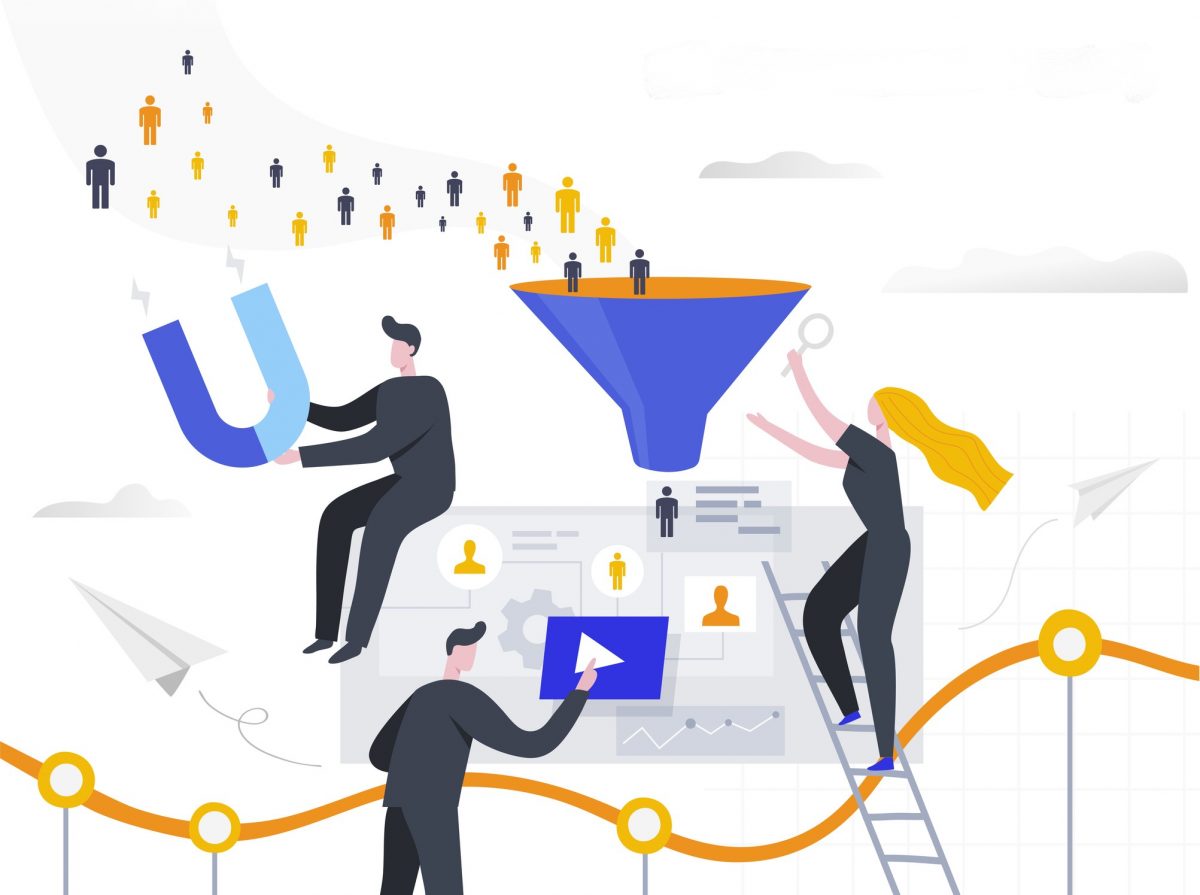 The next interview in this thought leadership series on sales and marketing alignment was with Pat Oldenburg, VP Demand Generation for ServiceMax.
ServiceMax provides industry leading asset-centric field service management software that helps their customers optimize their field service operations. 
TAKEAWAYS
1. Sales and marketing alignment is optimized with team-based planning and programs.
2. Orchestrated campaigns coordinate sales and marketing teams around key accounts.
3. Constant monitoring of shared metrics is one part of the success formula at ServiceMax; consistent execution is the other.
4. Dual funnels are employed to measure and assess success at the macro and micro level of campaigns, territories, industries and accounts.
5. Former industry practitioners provide thought leadership to drive differentiation and foster customer interactions in a rapidly changing environment.
Demand Generation Team
The ServiceMax marketing organization has 30 people, with 13 dedicated to demand generation.  Eight of those 13 positions are pursuing projects in digital marketing and field marketing.  The other five folks are on the operations team.  The demand generation team concerns itself with building the sales pipeline and working with the enterprise and teams devoted to sales development strategies to source additional opportunities. Pat explained that "whether marketing sources it (as pipeline) or sales sources – it doesn't matter to us as long as we get it in the (opportunity) funnel. Then we influence it through digital, orchestrated efforts and in-person activities".
Sales Development
Internal Sales Development Representative (SDR) teams prequalify accounts and opportunities. The sales development team is split into three geographic (North America, Europe and Asia Pacific) regions. There are 15 people assigned to perform this task across a hybrid of inbound / outbound efforts.
Dual Funnel Reporting
Pat shared that they maintain a "dual funnel" model for reporting performance across marketing and sales.  "There's the traditional funnel which starts at a suspect level and goes all the way through automation qualified lead (AQL), sales qualified and sales accepted lead.  This (traditional funnel) eventually manages through to the customer at an account level.  We also have an account funnel that encompasses all of our enterprise and strategic accounts because we have mapped those into the CRM.  This (account funnel) starts with no engagement and then it goes all the way (through) to intent and predictive buying stages of the funnel. Eventually we send alerts to sales about (specific) accounts. The account might be found to be spiking in either direct engagement or intent, or we might find there's no opportunity.  For the traditional and account funnels, we back into our requirements from a demand generation and pipeline generation standpoint, based on the velocity win rate and average deal size".
Alignment
Marketing meets one-on-one with each sales region every week, looking at territory needs at the "rep" level.  They assess metrics and discuss issues such as current bookings, coverage, quota, if a ramp-up is required, and a snapshot of pipeline value.  Then, with these assessments in hand, they partner with sales to develop a marketing plan for each territory.  
Pat stated that they can "…turn on advertising campaigns targeting a segment of accounts, do one-to-one account activity (which is newer to ServiceMax), but we are leaning in pretty heavily on multinational strategic accounts".
I asked Pat to talk about the process for how marketing hands-off opportunities to sales. Pat responded that "there is no handoff per se… we meet with our sales counterparts on a weekly basis. Our field marketers are considered an extension of the selling team. It's really a partnership that will run through pre-opportunity and throughout the funnel".
This partnership does not confine itself to only planning.  Pat said that they routinely engage with sales on "deal reviews" where the executive team may also be involved.
Performance Metrics
Pat began this part of our conversation with "…we have put a lot of work in over the years, to align the marketing key performance indicators (KPIs) with sales targets".
Marketing is measured against the same bookings goal applied to sales and the company overall.  In addition to the bookings goal, marketing must also meet pipeline value levels measured as a percentage of those bookings' goals. This pipeline generation performance is broken down by specific campaigns and channels. This is done because they have a keen interest in making sure their individualized marketing spend is efficient.  They want to know which channels are generating what type of return on spend. 
As Pat describes it "…we're constantly monitoring the performance of (our) marketing activities". They look at each marketing campaign both on an account conversion basis and an overall pipeline contribution basis.  By tracking individual opportunities, ServiceMax can see whether or not any touches have occurred and, based on those touches, if that opportunity has progressed to the next stage.
MarTech Stack
In light of all this attention to detail, I asked about their MarTech stack.  Pat said that Salesforce is their system of record for opportunities while Marketo is used for email marketing campaigns.  6Sense is used to determine the impact of marketing activities on specific territories and accounts. LeanData is used to assess attribution, in other words, which channels and campaigns are having the greatest impact on pipeline.
On the outbound sales side, they use the Xant Playbooks Platform. 
Pat said they monitor pipeline value and current bookings constantly. Pat spoke with pride regarding the capabilities and skill sets of the sales and marketing teams at ServiceMax and, above all else, the company's performance is a result of the steady and consistent attention paid by those teams on pipeline generation, bookings execution and sales development strategies.
Content Provides Differentiation
The next part of our conversation, regarding differentiated content, was particularly interesting because Pat revealed that the ServiceMax content team is comprised of former field service practitioners. This generates a lot of great content but marketing must develop a set of templatized campaigns by industry (and even sub-segments) which can take that content down to the account level if required.  Because of the diversity of service trades in their audience (anywhere from commercial/residential HVAC contractors to laboratory instrument installation/service companies), the goals are to provide scalability while optimizing demand generation from the volume of domain and industry-specific content that is produced. 
Field service management can be a very complex environment.  Consequently, domain-oriented content is very important to their competitive differentiation. The marketspace is constantly evolving and their challenge to increase revenue by harnessing the data captured across an entire organization is always a moving target.  While their sales representatives can understand a lot about a client's challenges, having practitioners that have held senior operational roles in various industries affords ServiceMax an added level of credibility – especially in industries like healthcare, for example. 
Pat expanded on this point by saying "…in medical device manufacturing, for example, with all the regulation, and with this last year we have had, it's just been critical to have somebody that knows what's going on in the minds of CIOs, heads of service or operations at all these places and can speak to them about their challenges; and how they dealt with those challenges when they had the job".
Looking Forward – Team-Based Demand Orchestration
I asked Pat about any new initiatives that are underway to further enhance the success of their sales and marketing alignment.  Pat was kind enough to share the following information:
"…we're working on some very orchestrated efforts (between) marketing, the SDR team and the account executives that (are responsible for closing) deals. We are rolling out a new "one-to-few" effort. It's a hybrid situated between one-to-one and one-to-many approaches. We're creating 100 different micro sites to target accounts along with sequences (managed) through Xant.  We are developing fully integrated campaigns incorporating advertising, email, direct mailing, social and telesales.  The campaign will be targeted to 100 accounts (at an account level) over the course of 90 days".
In true alignment fashion, Pat's team in marketing is as excited about the orchestrated efforts as is the sales team. "We'll be able to meet weekly to go over the progress and any changes that we need to make on the marketing side.  We will share feedback and best practices globally across the team".
Pat closed our time together on a personal note addressing the impact that COVID-19 has had on his team in particular: "The last year was challenging from a personal and professional standpoint for most people. On the work front, the amount of virtual events and how much pivoting we had to do, how many credits we've been given by (tradeshow-related) companies where we had in-person events that were cancelled… this alignment effort has given a breath of fresh air to the team. I feel like it's done the same for the sales organization… this feels different. It is very much a team-based approach".
I couldn't agree more.  Using adversity as an opportunity to pull closer together marks a resilient crew – and an outstanding company.